Greetings,
Thank you so much for visiting the website of St. Cecilia Roman Catholic Church. St. Cecilia's, a Parish of the Diocese of Covington, KY, is located in Independence, KY. Independence, the county seat of Kenton County, although appearing rural, is actually the largest city in the Commonwealth and is also the fastest-growing city as well! Our Parish has a rich history in this community, with many parishioners whose families have been members for generations; as well as a significant number of families who are recent transplants from other communities.
Ours is a Parish where growth in faith and service for Jesus Christ is encouraged and fostered through worship, catechesis, devotion to the Sacraments, and volunteerism in a variety of facets. In accord with our Holy Father, Pope Francis, and the teachings of the Magisterium, we seek to prepare parishioners as witnesses for the Lord wherever they may be. As an outreach of our Parish, St. Cecilia Elementary School provides a quality Catholic education for our children from pre-school through the 8th grade.
Information for participating in our Parish life is provided herein. If you are currently a parishioner of St. Cecilia's, you may enjoy visiting your home site; if by chance you have been away from the Church or are searching for a Parish home, please come and visit! I believe you will find St. Cecilia's to be exactly the church you have been looking for.
On behalf of the wonderful Parishioners of St. Cecilia Roman Catholic Church, I welcome you!
The Lord bless you and keep you,
Rev. Harry Settle
Pastor
DAILY MASS
Tuesday - Friday | 8:00am
WEEKEND MASS
Saturday Vigil | 4:00pm
Sunday | 8:30am, 11:00am
EXPOSITION | BENEDICTION
Thursday | 9:00am - 7:00pm
Monday | 8:30am - 4:30pm
Tuesday | 8:30am - 4:30pm
Wednesday | 8:30am - 4:30pm
Thursday | 8:30am - 4:30pm
Friday | Closed
*The office is closed daily from 12:30 - 1:00 PM

OCIA
OCIA is the standardized process developed by the Catholic Church for prospective converts above the age of infant baptism. Primarily a spiritual journey, candidates are slowly introduced to Catholic beliefs and practices through class instruction and spiritual direction over the period of several months.
Adult catechism classes will begin on Wednesday, October 4th at 7:00 PM in the middle school religion room. These classes are for those interested in converting to Catholicism, and for those interested in learning more about the the Catholic Faith.
Click the link below to view our latest church bulletins!
Business Manager

Principal

Church Secretary

Director of Religious Education

Director of Sacred Music

Director of Maintenance
St. Cecilia News and Notes
Hopefully, everyone has begun receiving their new offertory envelopes. The decision was made to switch companies, so we welcome any feedback, whether good or bad. Of course, many parishioners give online, and may not have a need for their envelopes. If you are an online contributor, and would prefer not to receive the envelopes, just let us know and we'll remove you from the distribution list. And if you would like to give online, you can visit our website and sign up, or you can scan the QR code on the new envelopes and give that way. And, as always, thank you for your contributions!
One further note regarding collection envelopes…some people give online but continue to receive their envelopes for special collections, since these do not run automatically through online giving and they want to make sure they contribute. Please note that you have the option online not only for recurring contributions, but one-time contributions, as well. There is also the possibility of contributing under the "second collections" option, which is where you will find most of the diocesan collections. If you have any questions regarding online giving or weekly envelopes, please feel free to contact us. Thank you again.
Final numbers on our very successful festival are close at hand. We are waiting on a few more bills before we can finalize the numbers and publish them for everyone to see. One thing is for certain…only four times previously have we managed a net profit in excess of $200,000. This will easily qualify as the fifth. It was definitely a huge success, and in thanks, our festival committee will celebrate with two great events. On Thursday, October 12th, there will be our annual Worker's Party, which will be held in the undercroft from 6:30 pm-9:00 pm. There will be dinner, drinks and door prizes. Then, on Sunday, October 29th will be a Family Football Potluck from 4:00 pm-9:00 pm. You can come and watch the Bengals-49ers game and bring your favorite snack to share. Kids are invited to wear their Halloween costumes, as there will be trick-or-treat at halftime. Please make plans to attend both events.
Our annual Blessing of the Pets will take place in our parking lot on Wednesday afternoon, October 4th at 1:00 pm. If you would like to get your pets blessed, please make plans to take advantage of this opportunity.
Congratulations are due to Bob Kramer and Jan Williams on their wedding, which took place here at St. Cecilia on September 16th. Here's to a lifetime of joyful matrimony!
Have a wonderful and blessed week!
If you have any questions or concerns about what's going on at St. Cecilia, or would like something included in the News & Notes section, please let us know. Contact our business manager, Dave Bene, at [email protected].
Did You Know?
By 1936, our school had become a bit overcrowded, as the original school building consisted of just two classrooms, in addition to the nuns' living quarters. Given the situation, the Kenton County Board of Education offered St. Cecilia a one-room sectional frame building free of charge, provided that we assume the cost of moving it onto our property. Hence, the building was dismantled and transported to a location adjacent to the already existing school. Amazingly, that building would continue to be utilized until the construction of our current school building in 1958.
Weekly reading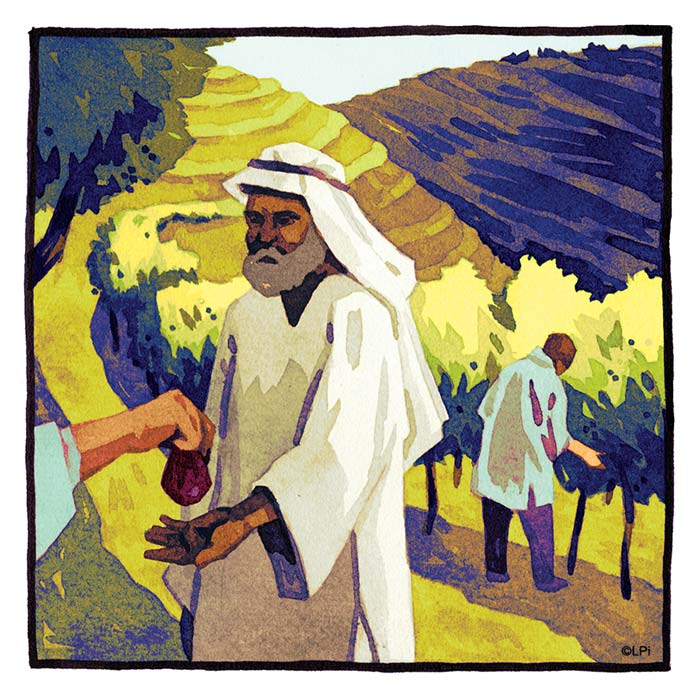 Weekly reading
Readings for the week of September 24, 2023
© Liturgical Publications Inc